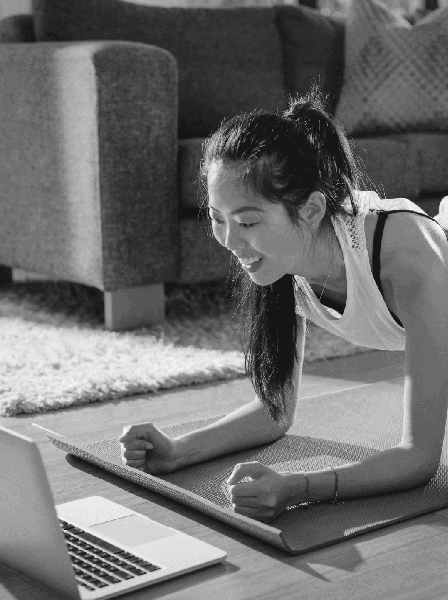 Are you in a situation where leaving the house to make a training session is simply a no-go? Or a busy lifestyle means the demands on your time prohibits the whole exercise thing somewhat? Or perhaps you live away from a population base and going in to town for a workout simply isn't that feasible?
Well our interactive virtual training (Zoom PT) could be right for you! Our Zoom PT sessions are perfect to suit a busy (or travel restricted) lifestyle as you can train from the comfort of your own home, giving you more flexibility and "less excuses" with your exercise routine. There are a whole host of training options and you don't need a bunch of gear, although anything you have at home will be put to good use in these sessions! You can even learn the basics of Boxing and Muay Thai Kickboxing, no equipment required. Unlike a live group feed going out to 100 people or a pre- recorded session,  your trainer takes you through a workout step by step in real time, demonstrating proper technique and watching you every step of the way, LIVE! We sometimes combine striking techniques with body weight and resistance exercises, giving you a full body workout that will get your heart pumping. Or, depending on your wants and needs it might be other cardio options and resistance training, whatever suits! All you need is a decent webcam (laptop, webcam on your PC or a tablet), decent internet connection, a bit of space and away we go.
So if you are looking for a virtual Personal Trainer that's fully interactive and getting results faster, then contact us NOW on 0272410426 or info@kotraining.co.nz to organise a FREE 20 minute trial session. We will take you through the start up steps and iron out any of the bugs in that 1st session. Here's what some of our clients have to say about our Zoom PT.
"I started doing the virtual training in the beginning of the lock down and I have to say I was more than pleasantly surprised with how effective it was. I also don't have to travel, so effectively save myself 40 minutes every time I train. It's so great, thanks!" Paul S, Christchurch